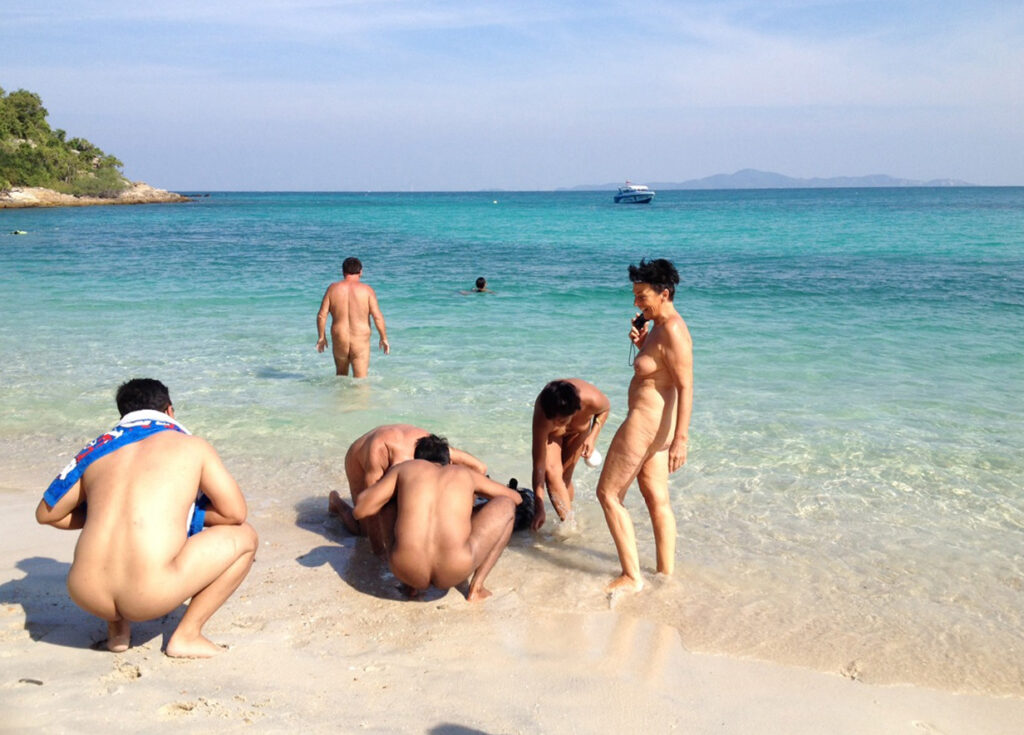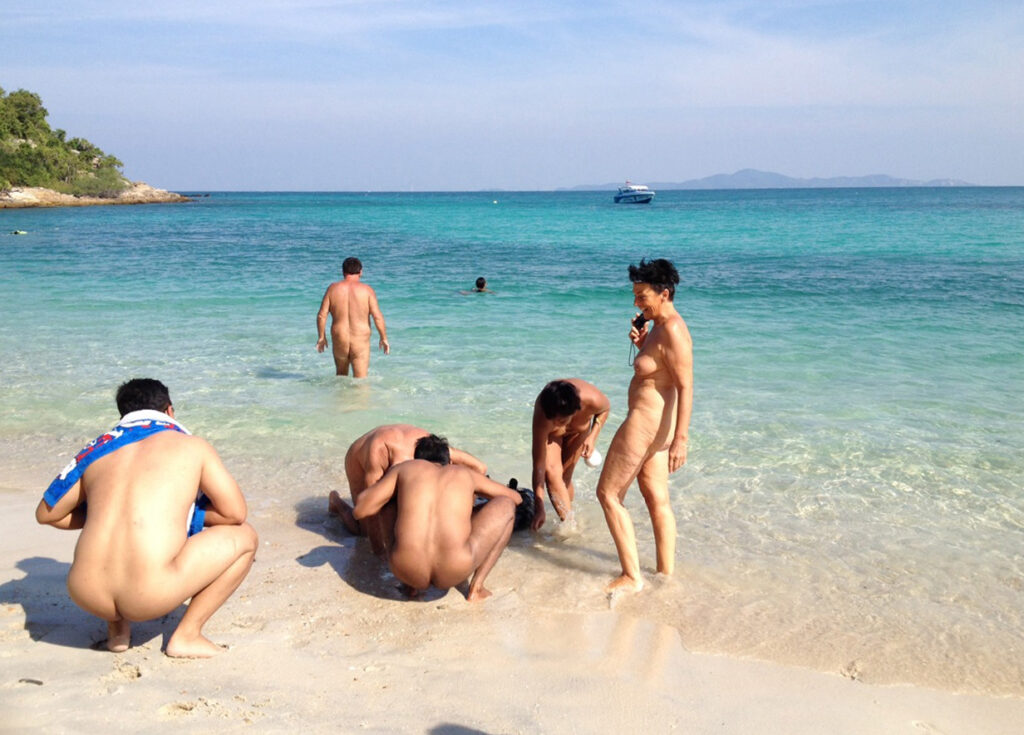 We promote wholesome, non-sexual nude recreation. Naturism is a way of life in harmony with nature characterized by the practice of communal nudity with the intention of encouraging self-respect, respect for others and for the environment.
Naturist Association Thailand promotes a lifestyle for health and wellness minded people who enjoy clothing-optional, naturist or nudist recreation in Thailand. Our concept is based on the well-known positive effect of naturism on stress and tensions and its boosting effect on self respect and positive body image.
Naturist Association Thailand promotes naturism in Thailand and organizes naturist health and wellness holidays and fitness weekends for members of all ages with or without children. We are always looking for new resorts to be member resorts who would enjoy the benefits of naturist tourism.
Naturists want more people to like themselves the way they are!
Non-Sexual Concept
Our adherence to the fundamental non-sexual concept of naturism ensures that single women and families can relax in complete safety and experience the full enjoyment of social nakedness during their stay. Swingers need not apply, as you will be rejected
Naturists fight the daily brainwash of pictures linking the human body without clothes with sex.
The Secret
The secret to the pleasure of naturism or nudism is the mindfulness and ultimate body awareness experience which is created by the feeling of the water flowing unhindered against your skin when swimming naked, the complete absorption of the sun on your whole body, the unrestrained caress of your skin by the evening breeze when strolling along a beach in the sunset.
Naturist like more people to enjoy being nude.
Family Lifestyle
Contrary to other therapies, naturism is a family inclusive lifestyle. We engage the strong and invigorating forces of naturism or nudism in boosting the recreational value our members' quality time together with their children and other members in a relaxed atmosphere of body awareness and mutual acceptance.
Naturists don't buy products that tells us we are not perfect - until we buy their product or service..
Stress vs Well Being
It is well known among naturists that even shorter periods of naturism creates a recreational wellness value matched otherwise only by much longer vacations Stress and everyday concerns are likely to vanish completely through the practicing of naturism as health, wellness and body-mind-spirit awareness improves.
But I don't live in Thailand!
That's fine with us, just by being a member you also support the growth of naturism in Thailand as well as Southeast Asia.
We also can see you when you come on your vacation to Thailand. Many international visitors join us because they enjoy coming to Thailand and want to enjoy the same things they do back home. And because we have such great weather. No matter where you live, it is always summer in Thailand.
I thought Naturism/Nudism was illegal in Thailand!
Yes, public nudity is illegal in Thailand. We don't go nude in public. We have private events at naturist member resorts or at very remote beach locations.
What Naturists stand for:
A way of living in harmony with people and nature, expressed through social nudity, and shown by self-respect of people with different opinions, body types and cultures.
Who Naturists are:
Naturists come from all walks of life, cultures, and religions. They have an inner enthusiasm that calls to them; telling them being without clothes is a comfortable and has nothing to do with sex. They come from anywhere and everywhere, they can be politicians, bankers, corporate professionals, business owners, and laborers.
Read more: Typical questions
Benefits of Naturism:
Self Respect:
We build self-respect and a positive body image. Unlike the media's narrow and unrealistic conception of beauty which builds a negative self image.
Equality:
We are all human beings, living on the same planet, made up of the same parts, just trying to survive.
Feminism:
Women have an equal right to be naked and not seen as a sexual objects.
Environmentalism:
We are not a separate thing from nature. Human beings are highly evolved, highly intelligent animals, but animals nonetheless.
Health:
Sunshine and fresh air are good for the whole body, and we promote outside activity, like swimming and hiking. And we all could take better care of our bodies.
Spirituality:
There is something spiritually uplifting, wholesome, and awe-inspiring, when you're naked in an environment untouched by civilization, without any textile fibers that connect you of time and place.
Our History
1931 Sarin Foothai registers sunbathing club.
Thai publisher Mr. Sarin Foothai registered the first naturist club in Thailand as "Nikom Arb Daad" meaning Sunbathing Club. He published several books and pamphlets about the benefits of being naked in the sunlight - in particular dawn and dusk - and emphasized physical activity in the nude. The first year, the club had 98 members both men and women and of all ages. In 1932, the absolute monarchy in Thailand was overthrown by a military coup and eventually Sarin Foothai was forced to close the Sunbathing Club due to his links to the Thai royalty and suspicion that he would train a resistance to the military regime.
2007 Naturist Association Thailand Co., Ltd. is founded.
Founding members Ms. Disraporn Yatprom and Mr. Gregers Moller - incidentally both also publishers like Mr. Sarin Foothai - created the current day organisation as a limited company together with a few more members who are still active today. The members met for monthly nude dinners or clothing optional dinners, went on trips upcountry up to Kun Dan Dam in Nakornayok and explored hidden coves on Koh Larn where nudity could be practiced without bothering anyone. The association emphasized naturism / nudism strictly as a non-sexual life style - the conservative form of naturism which also Sarin Foothai followed in 1931. Swingers and other forms of nudity for sexual purposes are turned away.
2009 Bruce Kendall moves the association forward.
Bruce Kendall takes over as main organizer. He creates a new website for the association and moves member management to Meetup.com from the local forum on the previous hosting. Bruce serves the members with a steady flow of events, assisted by his wife Jai Kendal and Thai member Marc Pongsabutra.
2011 Chan Resort becomes first Naturist Friendly resort in Thailand.
Chan Resort was built as a naturist resort following the owner, Chan Konin's positive experience with members of Naturist Association Thailand in his previous resort. Then he sold his old resort to built the new Chan Resort which the Naturist Association Thailand helped inaugurate on 15 September 2011. The old resort was renamed Chan Twin resort by the new owner.
2012 The Oriental Village Chiang Mai comes on board.
In Chiang Mai, french resort owner Paulo Richel followed the example of Chan Resort and declared The Oriental Village Chiang Mai clothing optional. The Naturist Association Thailand arranged its first member weekend at the resort on 16 November 2012 to celebrate the new member of the exclusive club.
2015 Barefeet Naturist Resort, Bangkok's first nudist resort.
Barefeet Naturist Resort opened in Bangkok on 1 January as the first hotel catering for naturists and nudist in Bangkok. The resort has only five rooms, so there is no room for clothing optional - all guests are expected to be nude or in the company of a naturist / nudist. Owners Disraporn Yatprom and Gregers Moller resume a more active role in the leadership if Naturist Association Thailand.
Useful Links