Barefeet Naturist Resort, Bangkok
Barefeet Naturist Resort & Spa is a small naturist or nudist resort in Bangkok, Thailand! The management and the other guests expects you to undress when you arrive and be naked until you are ready to return to the outside world. If you come as a couple and your partner is new to naturism, he or she may wear a towel in the beginning. Nudity is important, but joining the experience together as a couple is much more valuable for both of you - although the full benefit of naturism will be reduced significantly
Located in Bangkok, 45 minutes from the city center by taxi and/or skytrain, Barefeet is popular also among business people or tourists who don't want to miss out on Bangkok's amazing tourist attractions. After a memorable day of business or sightseeing, refresh in our pool, energize in our fitness center, or balance your mind, body and soul at our hotel day spa.
Barefeet Naturist Resort has a nice big swimming pool, a smaller plunge pool, a regular pool side and a garden lawn for sunbathing or playing petanque. There is a sauna for five to six people, a hot tub for melting away and a massage room with two beds. Barefeet is rather famous for their elaborate massage menu. Guests also enjoy chatting with other guests around the big dining table or in the lounge outside their rooms.
Call for reservation +66 96 889 1112 - or Book here! 
To avoid misunderstandings and disappointment by newcomers, take note that chilling out at the resort is strictly a non sexual activity.
Barefeet Naturist Resort is designed specifically for naturists or nudists on vacation in Thailand. In this clothes-free environment, there's no need to put on clothing for any activity until you leave the premises. This freedom is an ultimate luxury. And you'll have peace of mind that here we take steps to ensure your privacy and comfort level.
Call for reservation +66 96 889 1112 - or Book here!
You'll love sunning in our private garden and skinny dipping in the garden pool. And you'll enjoy the legendary friendliness of fellow naturists. You will mingle with other guests and visitors either around the big shared dining table or at pool side.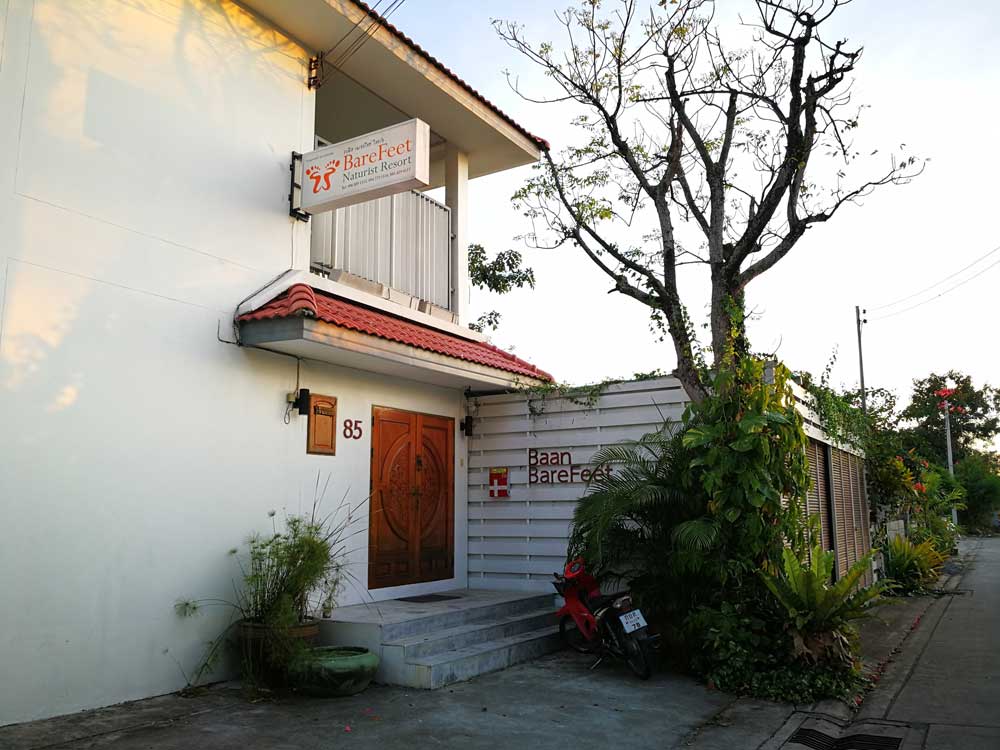 China: 光脚天体度假村 (曼谷)
Booking.com: Barefeet Naturist Resort(光脚天体度假村)
Taiwan: 光脚天体度假村 (曼谷)
Booking.com: Barefeet Naturist Resort(光腳天體度假村)
Agoda Chinese: 光脚天体度假村
Bangkokhotels: 光脚天体度假村 曼谷
Japanese Booking: http://www.booking.com/hotel/th/barefeet-naturist-resort.ja.html
バンコクのヌーディスト・リゾート(ベアフット)